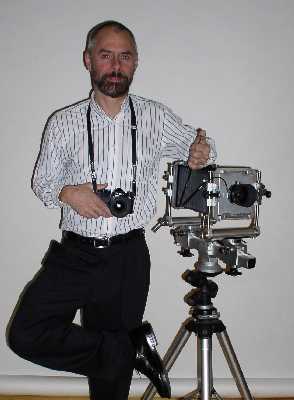 David Otis Ferguson finds in photography an important form of self expression. David has exhibited in the public art gallery system in Canada for over 13 years and his work is collected by organizations that include Air Canada, the Bank of Montreal, the Art Bank, and the Sun Life Assurance Company. Ryerson Polytechnic University is his alma mater and he graduated in 1985 with a B.A.A. in Media Studies. For the past 15 years David has been a member of Gallery 44 and in 1988 sat on the board of directors. In addition David works with the Bancroft Art Gallery consulting and jurying for their photography exhibitions.
.
David Otis Ferguson works as a commercial photographer from his Toronto studio. Clients including the Ontario Science Centre, Supercom, Quality Inns and Allen Kani Associates have commissioned his photographic skill for a variety of uses including product, interiors, architecture, and still life photography.

David has been building a alternative energy powered house near Bancroft that incorporates many environmentally advanced features. While this long term project approaches completion he finds much rejuvenation and replenishment in his forest refuge.